Adolescent Siblings Survey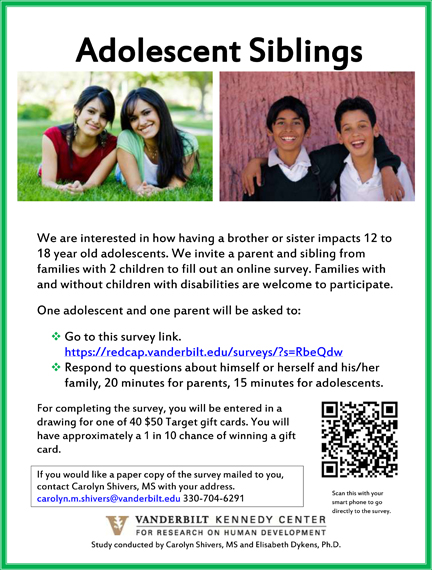 Participant Criteria: Families with 2 children, both children must be between the ages of 12 and 18
Description: We are interested in how having a brother or sister impacts adolescents. We invite parents and siblings to fill out an online survey. Families with and without children with disabilities are welcome to participate.
One adolescent and one parent will be asked to:
* Click the link below.
* Respond to questions about himself or herself and his/her family.
Compensation: For your participation, you will be entered in a drawing for one of 40 $50 Target gift cards. You will have approximately a 1 in 10 chance of winning a gift card.
Study Requirements: Completion of one survey - 20 minutes for parents, 15 minutes for adolescents.
Survey Link
https://redcap.vanderbilt.edu/surveys/?s=RbeQdw [1]
Contact Information
Carolyn Shivers, MS
330-704-6291
carolyn.m.shivers@vanderbilt.edu [2]