14th Boston Workshop Earns A+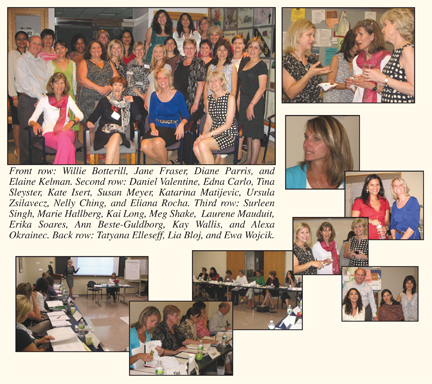 Since 1985, the Stuttering Foundation has conducted intensive summer workshops in order to increase the pool of speech-language pathologists trained in the latest techniques for the treatment of stuttering. This summer was no exception.
The five-day Eastern Workshop, Using Cognitive Approaches with People Who Stutter, was held in Boston from June 25-29.  Co-sponsored by the Stuttering Foundation and Boston University, the workshop was attended by clinicians from nine states, Puerto Rico, and an amazing nine foreign countries.
"Those who are selected to participate already have professional experience and are highly motivated," added Diane Parris, M.S., of Boston University, coordinator of the Workshop.  
Expertly led by master clinicians Willie Botterill and Elaine Kelman of the Michael Palin Centre for Stammering Children, the participants focused on cognitive approaches in working with children who stutter and their families. 
Case study demonstrations and interactive exercises enlivened the learning process. Throughout the program participants were asked to share what they would take away from the day's learning. 
One attendee commented, "The course content is immediately relevant and easy to begin implementing in many small ways."
Another said, "I gained knowledge and insight into counseling based therapy – new and revolutionary approaches to treatment – not just fluency!"
Another clinician wrote, "I learned how to treat clients who stutter by focusing on the positive and looking at the individual as a whole."
Participants had ample opportunity to get to know each other in class and in the dorms. As a result, the classroom experience was enriched by informal discussions of therapy programs and work settings.
From the Fall 2012 Newsletter