Sophie Tees Off With Courage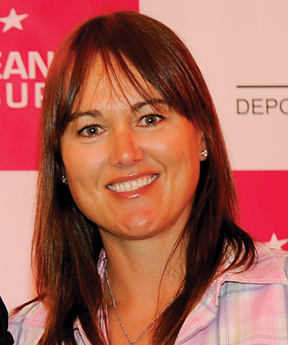 Now a fixture on the ladies pro golf circuit for nearly 18 years, the public at large is unaware that Sophie Gustafson deals with the issue of stuttering every day of her life.
While studying economics and law at Aranas Skolan and Komvux University in Sweden, Gustafson decided the time was right for her to turn pro. Her career has been prolific to say the least. As a member of the LGPA Tour she has five tournament wins in addition to 22 international wins. An article on Gustafson's fascinating playing career would be a grand work in itself; this article intends to solely deal with her speech.
In a May 9, 2000, column for Sports Illustrated under the title "My Shot," Gustafson wrote a heartfelt analysis of how media coverage always seems to focus more on her speech than on her winning golf tournaments. She wrote, "All articles written about me focus on my stuttering, and that bothers me. Why should my stuttering be the story when I beat the best golfers in the world?"
This statement seems to typify the kind of press coverage that the women's golf champion has received. Having had two brothers who stuttered early in life and stopped by age six, she was unable to stop like her brothers, even with intensive speech therapy. Early on in her pro career she admitted that it was hard to do things like book flights and hotel rooms because of her stutter and that she had to have her father do so.
In a question-and-answer interview on the Sports Illustrated/ CNN website in 2002, Gustafson was asked about an old rumor that as an amateur she purposely lost tournaments so she wouldn't have to give an acceptance speech. Her response was, "That's not true. It may have been in the back of mind, but it was not a conscious thought. When I was on the Swedish team, we had an exercise in which everyone had to make a victory speech. I finally decided that if I just said, "Thank you," that would be sufficient and would take off some of the pressure. Six weeks after that I won my first pro tournament, and three weeks later I won my first European tournament. It might have been something that held me back, but I didn't realize it."
A very direct article appeared in The Independent, the British daily, on May 1, 2002, which was titled "Gustafson's struggle and search for words." The article relays Gustafson's ability to sing fluently the lyrics to songs by her favorite rock band Tonic as well as how each day after leading the golf tournament, she made the jaunt to the interview tent and refused to "succumb" to her stuttering. Her caddy, Chuck Hoersch, told reporters, "It might take some time. Please be patient and she'll answer all your questions."
A San Diego Union-Tribune article on September 19, 2009 entitled "More than her game is inspiring about Gustafson" describes her lifelong struggle with stuttering.
Staff writer Tom Leonard, states, "She has her good days and bad days with it, and the stuttering is said to be less pronounced when she is relaxed and around friends."
Gustafson faces stuttering head on in addition to having a sense of humor about it. "I guess I'm not Nike commercial material," she once said. Also, she made reference to a comfort zone with her speech in contrast to the interviews, "Get me among my Swedish friends and I'll be the one doing most of the talking."
Males heavily outnumber females four to one in the stuttering community, and it is exciting to see so many male pro athletes who stutter generously lend their name and time to help young people. However, girls who stutter now have their very own hero — Sophie Gustafson.
The fact that Sophie Gustafson still battles stuttering every day of her life puts a human face on this frustrating speech disorder. Needless to say, among her most loyal fans are people who stutter, both young and old, male and female.
-From the Summer 2012 Newsletter