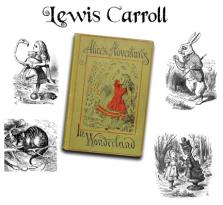 The recent Disney version of Lewis Carroll's classic, Alice in Wonderland, garnered a great deal of media hype. Even though the mainstream media has not made mention that Carroll was a person who stuttered, his family history gives credence to the discovery of the genetic link to stuttering. Carroll was born to parents who were first cousins; almost all of their eleven children, three girls and seven boys, struggled with stuttering past childhood.
In Lewis Carroll: A Biography, author Morton N. Cohen stated, "The newborn son was the third of what eventually became a family of eleven children, and if these bloodlines deserve credit for the creative genius we know to be Lewis Carroll's, so perhaps they bear the blame for the stammer epidemic in Charles' speech and in the speech of much of his brothers and sisters."
Lewis Carroll, the pseudonym of Charles Lutwidge Dodgson, was born in 1832 to Charles Dodgson and the former Frances Jane Lutwidge. In addition to being a writer, Carroll was a mathematician, a logician, an Anglican deacon and a photographer. His most notable literary works are Alice's Adventures in Wonderland, Through the Looking Glass, The Hunting of the Snark, and Jabberwocky.
Biographer John Pudney expressed in Lewis Carroll and his World how Carroll's childlike fantasies were not only the spark for his creative genius but also brought him into a new world where stuttering did not exist, "This 'perfectly hard crystal' containing childhood was his true essential life, expressed in the Alice books and in some poems ….. When he spoke to these children, he lost his habitual stammer. He simply became one of them …… This perennial childhood, together with the fantasy and poetry that sometimes expressed it, was his reality."
In 1859, Carroll undertook speech therapy lessons from James Hunt, who was considered the foremost speech correctionist in Great Britain at the time and was estimated to have treated 1,700 people who stutter. In The Mystery of Lewis Carroll, biographer Jenny Woolf stated that Hunt boasted he taught the patient to speak consciously in a way that other men spoke unconsciously.
Nothing bothered Carroll more about his speech than how it affected his ministry in the Anglican Church. His father had been an Anglican priest, and Carroll himself became a deacon. Upon one occasion he accepted the invitation to preach and recalled, "I got through it all with great success, till I came to read out the first verse where the two words 'strife, strengthened' coming together were too much for me, and I had to leave the verse unfinished."
Carroll's nephew, Stuart Dodgson Collingwood, wrote that his uncle "saw that the impediment of speech from which he suffered would greatly interfere with the proper performance of clerical duties."
One longtime friend, May Barber, described Carroll's speech, "Those stammering bouts were rather terrifying. It wasn't exactly a stammer because there was no noise, he just opened his mouth …. When he was in the middle of telling a story …… he suddenly stopped and you wondered if you had done anything wrong. Then you looked at him and you knew that you hadn't, it was all right. You got used to it after a bit. He fought it wonderfully."
Biographer John Pudney wrote, "Perhaps his failure to correct his speech impediment was the overarching symbol of his entire life. He learned to live with his stammering; he knew what it permitted him to do, what not, where it would snare him and destroy the effects he sought to achieve and how to avoid the traps."
Stuttering did not stop Carroll. He brought to life many lasting and imaginative stories for children. It is a shame that his own struggles and family history of stuttering are not well known as they would further inspire as well as help children who stutter.