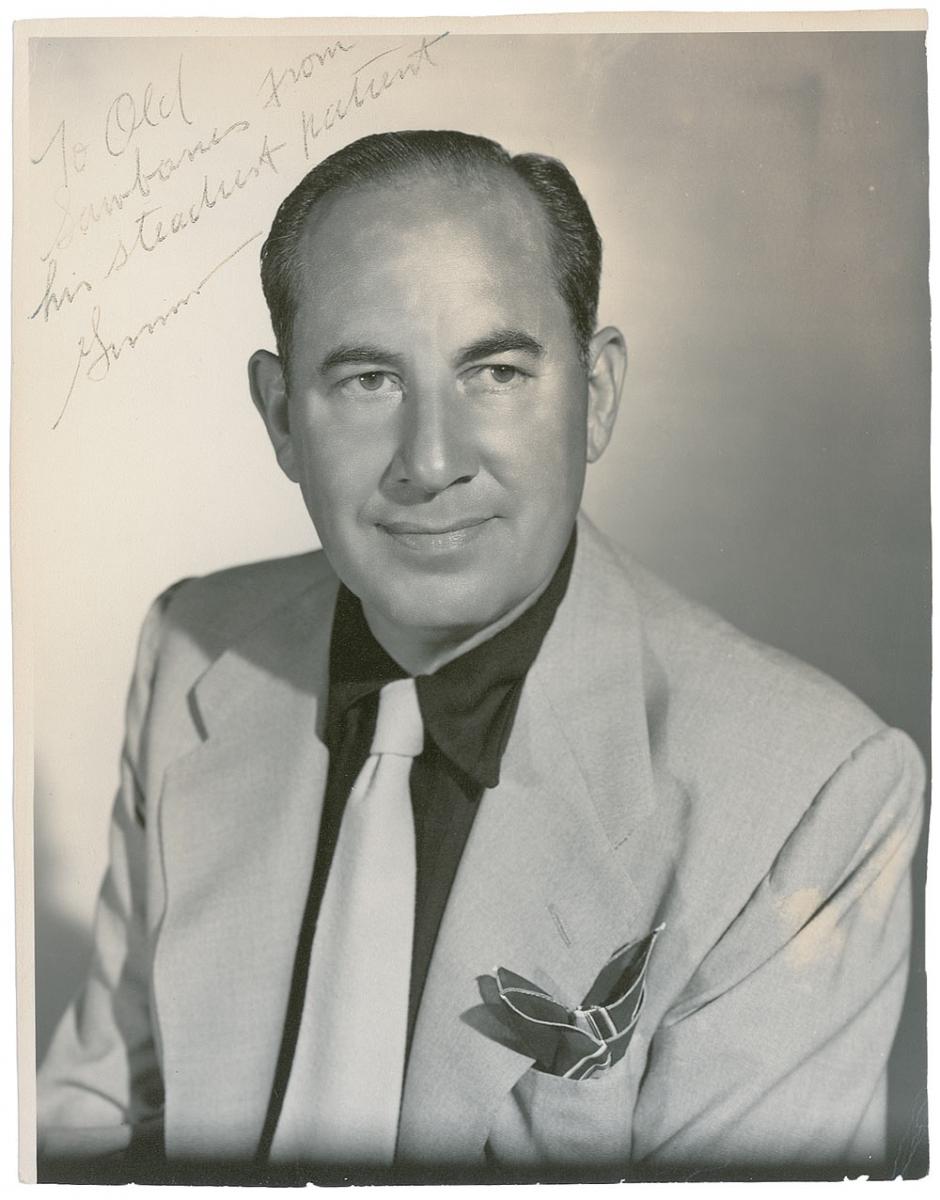 The story of the Marx Brothers needs no introduction. Five brothers, the sons of Jewish immigrants Sam and Minnie (Schoenberg) Marx, started their careers as young vaudeville performers. After graduating to Broadway success, they became international movie stars with the release of their first movie in 1929, The Cocoanuts. In total, the Marx Brothers would  star in 13 movies, many of which were wildly successful commercially. Five of their films appeared on the American Film Institute's list of the top 100 comedy films; two of the five, Duck Soup (1935) and A Night at the Opera (1935), were placed in the top fifteen.
The Marx Brothers, who went by their stage names, were Chico (Leonard), Harpo (Adolph), Groucho (Julius), Gummo (Milton) and Zeppo (Herbert). Chico, Harpo, Groucho and Gummo performed together on vaudeville for 13 years as "The Four Marx Brothers." Only on one occasion did all five brothers appear on stage together: a 14-year-old Zeppo joined his brothers for a single performance in Flint, Michigan. Gummo, disenchanted with acting, left the act to join the U.S. Army to serve in World War I. In order to continue as "The Four Marx Brothers," Zeppo was recruited to the vaudeville act to take Gummo's place.
Zeppo appeared with Chico, Harpo and Groucho in the first five movies, playing the straight man or romantic lead to the zany comedy of his brothers. He would be the first to leave the fold to pursue a career as an engineer and inventor. He later became a theatrical agent.
Gummo left acting primarily because, unlike other people who stutter who found fluency while acting, his stuttering impeded him in delivering his lines. While he performed with his brothers for 13 years, it became extremely difficult for him as the brothers' act shifted from song and dance to verbal comedy. After leaving, Milton "Gummo" Marx became a highly successful agent for not only his brothers but also many other notable Hollywood actors. He also helped develop TV sitcoms, such as The Life of Riley.
While most books on the Marx Brothers only briefly mention Gummo's stuttering, Monkey Business: The Lives and Legends of The Marx Brothers by Simon Louvish goes into detail on the subject.
Louvish wrote, "Milton had developed a stutter, which was to plague him throughout his years on the stage. But, as a teenager, he became a skilled dancer, a talent he maintained all his life." Louvish quoted Gummo's son: "Milton, of course, remains the elusive one, the one who never made it to the screen. His son Robert told me that 'Gummo… did not like the stage, and stammered, to the point that he made himself a student of the dictionary as a result of that.' In order to force himself to speak his lines without failing, Milton built up a mental list of synonyms: 'He had every innuendo of every word that he could possibly do, he needed other words to get out, to get that line out, so the show would go on, in normal timing.'"
"Milton, in fact, had been growing weary with his role, as his son Robert explains: 'Gummo felt that he was the most dispensable of the group… the act was changing...becoming less of a song and dance act, and more of a comedy act and he became the straight man. So when the opportunity came for him to go in the service he did that and left the act and that was his way of breaking out." Louvish also added, "Becoming the straight man had involved Milton in more dialogue than his continuing stutter allowed him to handle with any degree of comfort. He had been on stage for 13 years, a long time for a man with a speech impediment."
What is ironic is that Milton's older brother Arthur, at a time he had no difficulty speaking, cultivated the character of Harpo, who was a non-speaking character. Although Gummo never made it to the screen with his brothers, he almost did. In 1947, it was reported in the media that the four brothers had agreed to appear as themselves in a biopic about the Marx Brothers, which would have included them recreating a lot of their previously unrecorded material from their Broadway and vaudeville days. However, the film was never made. It would have been the first performance by the four Marx Brothers since 1933. While Gummo did not sign on this project that never came to fruition, there was hope among some of his brothers that he would make an appearance in a sketch from the vaudeville days, which would have marked the first and only time that the five Marx Brothers appeared together on the screen.
There have been many Celebrity Corner [1] articles about actors who have struggled with stuttering only to find fluency through acting, such as Bruce Willis, Sam Neill, Betsy Drake, Eric Roberts, Emily Blunt, Marilyn Monroe and Rowan Atkinson. Unfortunately, stuttering prevented Milton "Gummo" Marx from continuing to perform with his brothers who dominated the stage, screen and radio with their trademark brand of comedy. However, his work as the exclusive manager of his brothers was instrumental to their great success in the film industry. He was married to the former Helen von Tilzer from 1926 until her death in 1976. They had one son, Robert. Two of Milton's grandsons, Gregg Marx and Chris Marx, are actors. Milton died at the age of 83 in 1977.
While stuttering was a factor in his decision to leave the dynamic act with his brothers, Milton "Gummo" Marx was extremely successful as a Hollywood agent and highly respected in the entertainment industry. Over the years, "Gummo Marx" has become the subject of a question in trivia games. Gummo Marx is much more than an answer to a trivia question as he did not let his stuttering get in the way of a successful career after he retired as an actor. To the stuttering community, Gummo is just as much a celebrity as Chico, Harpo, Groucho and Zeppo.
From the Spring 2022 Magazine