John Mackay: The Irish-American Bonanza King
John Mackay ranks as the richest Irishman ever in history, as the $1 billion he possessed at the time of his death in 1902 is the equivalent of $80 billion today. In a December 7, 2021 article in Irish Central, Niall O'Dowd wrote, "What are the odds that the richest ever Irishman would be born in a Dublin one-room hovel with a pig, his parents, and a sister for company?" Well, what are the odds that the richest Irish person ever and one of the richest persons in the world during his time was a person who stuttered?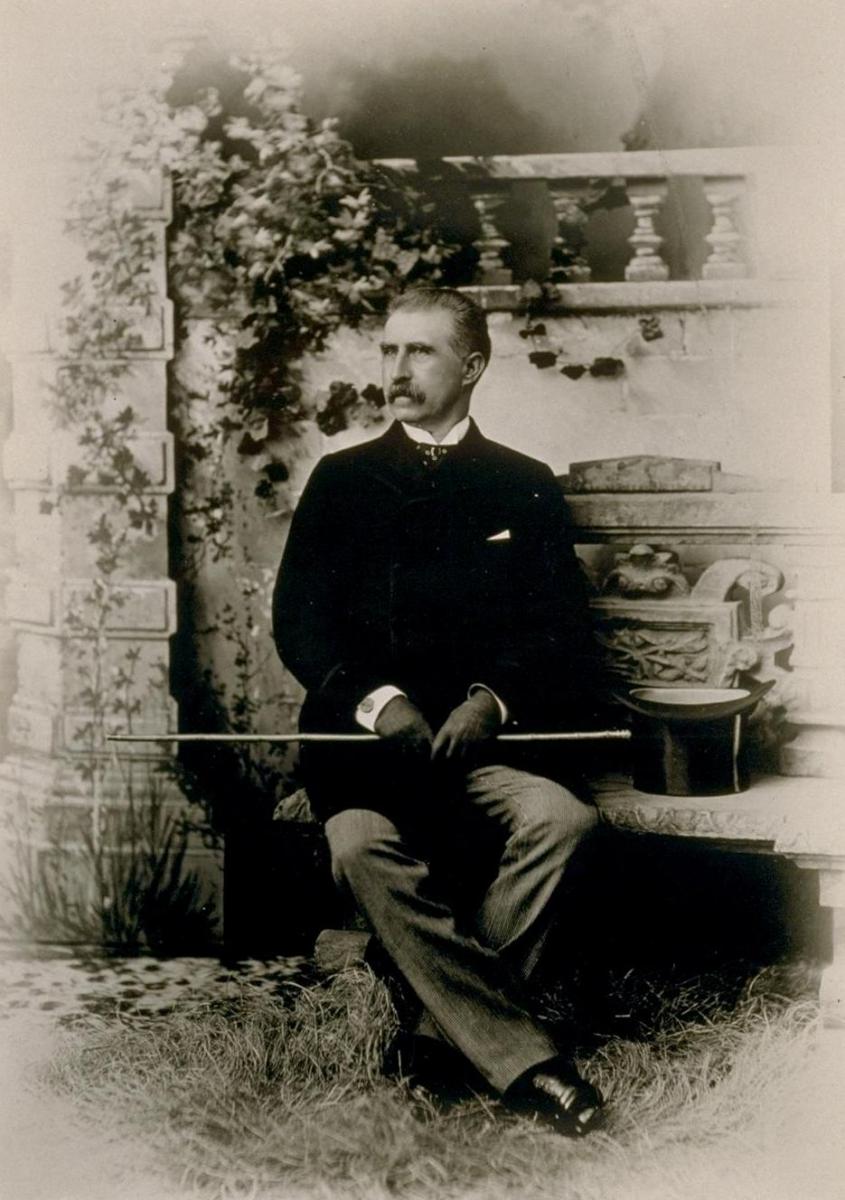 Born in Dublin in 1831 into a working-class poor family, a young John Mackay immigrated to New York with his family in 1840, settling in the infamous Five Points slum in Manhattan. The better fortune the family sought in America was quickly dashed as Mackay's father died, forcing the youngster to quit school at age eleven to go to work to support his mother and sister. He hawked newspapers such as the New York Herald in Manhattan, and later was an apprentice in a shipyard. Those years presented a struggle to maintain housing and food for his mother, his sister and himself.
Intrigued and enticed by the news of the 1848 California gold rush, he waited until his sister was old enough to work and then in 1851 the 19 year-old made his way across the country to California. He mined for seven years without any success at all, but did not let the often grueling physical labor discourage him. The article, "The Mining Millionaire Americans Couldn't Help But Love" in the June 2018 issue of Smithsonian magazine put forth, "He didn't have a nickel to his name when he arrived on what soon became known as the Comstock Lode in what was then the west Utah Territory (present day Nevada) so he did what he'd always done – he pushed up his sleeves and went to work. He started as a common hand in somebody else's mine at $4 per day."
Mackay's first great success occurred when he and three partners purchased the majority stake in an obscure mine called the Kentuck. He invested every penny of his meticulous savings from the previous seven years of hard labor. After six months of mining the Kentuck with no luck and teetering on the brink of bankruptcy, he and his workforce on New Year's Day 1866, "hacked into a ten-foot wide mass of sugary, gold-and-silver-infused quartz at the bottom of the Kentuck's mineshaft, 250 feet below the surface. Over the next two years, Mackay mined more than $1.6 million worth of gold and silver from the tiny Kentuck (a sum that in those days had an emotional impact roughly equivalent to $375 million modern dollars). During that time the Kentuck paid $592 to its stockholders, a 37% yield – a substantial portion of which went straight into Mackay's pocket."
With continued financial success from the Kentuck, Mackay's appetite for mining did not wane. His most massive mining successes happened in 1874 and 1875 when he and his three partners scored what became known as, "the Big Bonanza," a strike more than 1,500 feet below the surface in two mines in the Comstock's neighboring Consolidated Virginia and California mines.  According to the article in Smithsonian, "That ore body still holds the record as the most concentrated in history and it made John Mackay one of the wealthiest men in the world. His share of profits ran between $20 and $25 million, around $50 billion when measured as a share of the GDP of the modern United States."
The only people in the world at that time with a monthly income anywhere near that of Mackay were his three junior partners in the company they appropriately named The Bonanza Firm. Their company had a cash income of between $1.2 and $1.5 million per month. At the time, the Spirit of the Times declared that The Bonanza Firm was, "the wealthiest firm in America and prospectively the richest in the world."
Throughout his hard work as a youngster to his seven unsuccessful years of hard labor in the mines and then in his immense success in his adulthood, John Mackay refused to let his stuttering define him. It was obvious to all who knew him at the various stages in his life that he was most definitely not going to let stuttering stand in the way of his ambitions.
In his 2018 biography The Bonanza King: John Mackay and the Battle over the Greatest Riches in the American West, author Gregory Crouch addresses Mackay's stuttering several times. He wrote, "Mackay found the pleasure in hardship. He didn't say much, and when he did, he spoke slowly fighting a childhood stutter. Mackay was proud, touchy and quick with his fists. He would share his last morsel of food with a friend, but nobody ever took anything from John Mackay without a fight."
When discussing how Mackay rose from day laborer to one of the world's richest men, Crouch wrote, "A taciturn lad who spoke slowly and awkwardly, fighting a stutter, he'd regret his lack of formal education for the rest of his life."
"Although a socially reticent man embarrassed by his struggles to overcome his stutter, Mackay showed no reluctance to push himself forward through sustained physical effort…. Mackay didn't talk much, and when he did, he spoke in methodical measured tones, still fighting his embarrassing stutter, his uniquely American argot a mix of New York, California mining slang, and 'rich Irish burr'."
John Mackay's immense wealth put him in the same league as his industrial rivals like Andrew Carnegie and Jay Gould.  Mackay never gave up in life and persevered at every impasse, achieving his success while constantly dealing with his stuttering. Niall O'Dowd wrote in Irish Central, "Ironically, the fact that we know so little about him stems from the fact that Mackay was deeply beloved by everyone who met him when the robber barons like Jay Gould and Charles Crocker and their nefarious deeds were much more in the headlines." O'Dowd continued by addressing Mackay's work ethic, "Mackay always felt there was great benefit and status in holding down a job. He had a bad stutter his whole life which left him shy and reserved."
Besides mining, Mackay's financial empire saw exponential growth with successful forays into banking and communications companies. He was livid that the universally disliked robber baron Jay Gould charged extortionate rates to use his underwater cable to Ireland from the U.S. Mackay set out to break Gould's monopoly on underwater cables and to charge rates that were not exorbitant. Forming the Commercial Cable Company, it laid two transatlantic cables, which forced the toll-rate for transatlantic messages way down to 25 cents per word, thus breaking the despotic hold over such cables by Gould. Also, the Commercial Cable Company formed an affiliate company in 1886 called the Postal Telegraph Company, a domestic wire company that would not force the Commercial Cable Company to be held hostage by Western Union to collect and distribute telegraphic messages. Before Mackay formed the Commercial Cable Company, every single transatlantic cable between the U.S. and Europe went over wires owned by Jay Gould. What ensued was a rate war that lasted two years with Gould finally giving up on trying to run Mackay out of business. At the time, Gould made the famous quote about Mackay, "If he needs another million, he will go into his silver mines and dig it out."
John Mackay died in 1902.  A couple of years after his death, his son Clarence fulfilled his father's dream by completing the project his father started of laying the first cable across the Pacific, which went from San Francisco to Manila, Philippines and then onto Shanghai, China.
Unlike his high-profile financial competitors, John Mackay kept his vast philanthropic endeavors quiet and treated his employees well. More than one source cites his humble origins and his lifelong struggle with stuttering as the catalyst for his reputation for paying his many workers good wages and fostering a positive work environment.
In a life that started in working-class Dublin and then was continued under difficult family circumstances in New York City, John Mackay's struggles and successes were once the most beloved rags-to-riches story in America. At the time of his 1902 death, he was praised in newspapers in both the U.S. and Europe. The Salt Lake City Tribune wrote in an obituary, "of all the millionaires of this country, no one was more thoroughly American than Mr. Mackay, and no one among them derived his fortune more legitimately." The fact that John Mackay was a person who stuttered and became the wealthiest man in the world is a most compelling example of someone who refused to let his stuttering hold him back.
From the Spring 2022 Magazine