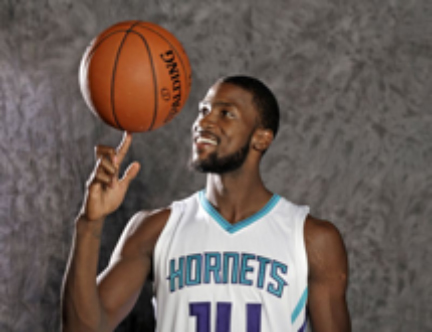 Michael Kidd-Gilchrist, now a small forward for the Charlotte Hornets, was considered one of the best basketball players in the country while in high school in New Jersey. In 2012, he was drafted second overall by the Charlotte Bobcats. That same year, he achieved his first career double-double, scoring 25 points and 12 rebounds and making him one of only five players under age 20 to accomplish that mark.
While in first grade, Michael was diagnosed with cognitive learning disabilities, and in second grade he began to see a speech therapist for the stutter he developed as a toddler. Because of his stutter, he seemed shy as a child, but had to face it head on once he became one of the country's top high school basketball players. "I spoke a lot around my friends and family, stuff like that," he said. "But other than that, I wouldn't talk to anybody really."
Over the course of 11 years, Kidd-Gilchrist saw three speech therapists. His classmates would make fun of him, and people would ask about his stutter, so he began to avoid situations where he had to speak publicly or be interviewed by the press. "I didn't want to talk to anybody, so I would just run from it," he said.
On the court, Kidd-Gilchrist struggled early on with his shot, so the Charlotte Hornets hired a full-time shooting consultant to help him perfect his form. After months of continuous practice and training, he improved significantly. Kidd-Gilchrist brings this same off-the-court work ethic to working on his stutter. While attending the University of Kentucky, he met a speech pathologist from the College of Health and Sciences. With her counseling, Kidd-Gilchrist was able to develop certain techniques to help him through his interviews and press conferences.
Now, he has moved past his earlier struggles with stuttering and is confident in his abilities. "At first, I was afraid of talking, but now it's just being, like, "This is me. This is who I am."
"I can't hide it all my life, so if you don't like it, if you don't respect it, that's your problem. So I'm confident in my own skin and it shows now, and on the court."
Updated Dec. 1, 2016