Submitted by Kerri Schwemm, M.A., CCC-SLP, Heartland Area Education Agency, Johnston, IA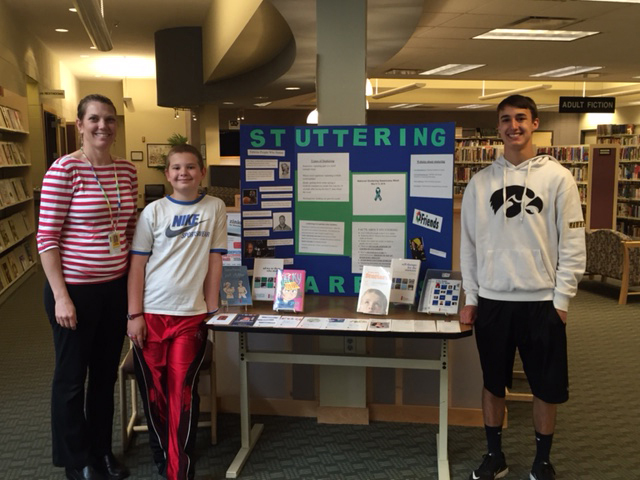 During my almost 20 years as a school-based SLP, I've learned many things from students and families. What I've learned from Pete is no exception. 
I met Pete four years ago. He was starting his freshman year of high school. A stressful, anxiety-ridden part of an adolescent's life, let alone if you are a person who stutters. I knew Pete's background from my colleagues who had worked with him in elementary and junior high school. I knew his stuttering "didn't seem to bother him." I knew there was something special about Pete. At that time I desired to help him "fix" his stutter.
He knew the strategies — easy start, light contact, full breath, and could demonstrate all of them. We tackled identifying difficult speaking situations and problem solving how to handle them. We created an elevator speech about stuttering for when you initially meet someone. We rehearsed oral presentations that he had to give in class. We continued to practice using fluency enhancing strategies. 
Pete and his parents met annually with his teachers at the beginning of the school year to share information about stuttering — his advocacy skills were growing. One day, I was working with a 7-year-old, Caleb, who stutters and I told him about all of the famous people who stutter in hopes of making him feel less "different."  He was impressed yet emphatically stated, "I don't know any REAL person who stutters."  This was my "ah ha" moment. 
A first meeting led to a continued mentorship — a friendship. Stuttering was actually rarely discussed between the two. For Pete, being able to demonstrate perseverance and a positive mindset to Caleb guided him to continue to build his desire to help others.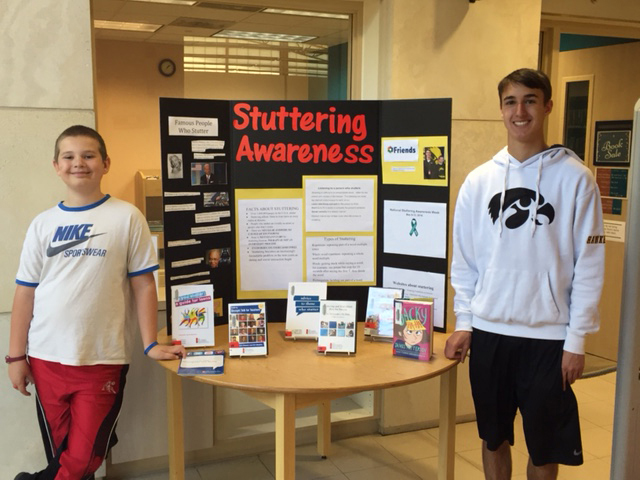 For Caleb, seeing that stuttering can be embraced boosted his confidence and a desire for him to develop self-advocacy skills. In my mind I still felt the need to address the mechanics of speech with Pete. After all, he would be going off to college soon.  So I thought –why not? Instead of "speech helpers" we talked about the anatomy and physiology of the speech mechanism as if in a college-level class. We studied respiration, phonation and articulation.  We manipulated timing, tension, movement, airflow, and voicing. We compared bilabials, fricatives, and velars. 
A proud Iowa State Cyclone fan, Pete shared with me that he was considering studying communication science disorders in college. I told him that he wouldn't be able to be a Cyclone if he did.  The mature discussions about speech production connected the dots for Pete from all of the previous years of speech therapy. I scheduled opportunities for him to provide articulation practice with a young girl on my caseload, giving him a new situation to practice fluency. We had on-going conversations about the profession of speech-language pathology. 
Caleb and Pete are currently preparing to take public awareness displays during National Stuttering Awareness Week into two local libraries. Caleb is getting ready to transition to a new school building as a 6th grader and is ready to share his video about stuttering with his new teachers. Caleb also wants to pay it forward by demonstrating a positive mindset to a new 7-year-old I now have on my caseload. 
Pete and his family will host their 4th annual FRIENDS Charity Golf Classic this June to raise money for the National Association of Young People Who Stutter, so that they can pay forward what FRIENDS has provided for them. 
This fall Pete will begin his freshman year as an Iowa Hawkeye with a major in communication science disorders. As it turns out, I learned that there was nothing about Pete that I needed to "fix" because what makes him special is his gift.
To learn more about Pete's gift visit: http://whotv.com/2016/04/20/pete-rudens-gift/ [1]
Posted May 13, 2016
Save