Meeting Drew Lynch in Omaha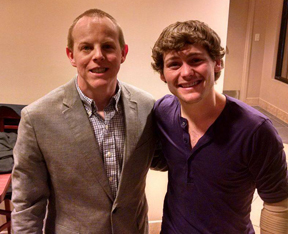 My name is Paul Bailey, I've lived in Omaha, NE, since 2011. I have the speech disfluency known as stuttering. I work in assisted living facility as a server in the dining room. I give the residents great customer service at The Parsons House. I especially have high regards for the veterans that live there. Without our veterans, the world would be a different place. I cooked in a corporate kitchen when I first moved to Omaha where I needed to interact with the customers. That meant constantly talking to them, which is a stutterer's worst nightmare! The first few weeks of cooking in the corporate kitchen were nerve racking. But after breaking out of my shell and not letting my disfluency define me and hide my loving personality for people, I flourished. As a comedy enthusiast, I felt it was imperative for me to support Drew Lynch when he came to the Omaha Funnybone. This is how I got to meet Drew when he performed in Omaha.
I first heard about Drew from the talent search competition series America's Got Talent on NBC. It was from the show I learned that he accidentally took a softball to the head leading to his speech disfluency. He performed his stand-up comedy at the Omaha Funnybone on Feb. 24, 2016. I enjoyed his stand-up not only because I share the same speech disfluency as he does, but because he brings positivity and enthusiasm to the stage. I felt he brought those two things to the stage because he took real life situations and made them funny. I felt empowered by the fact that he did not let his speech disfluency define him or make him fearful of it. He didn't shy away or falter because of it.
At the end of the show before I walked out of the Omaha Funnybone Comedy club, I got to meet Drew Lynch. I shook his hand, told him that I also have a speech disfluency as well, and gave him a big hug. He told me that meant a lot. One percent of the U.S. population has a speech disfluency. So the next time you run into one of us, be kind and patient. You might just find a friend in one of us.
Posted April 22, 2016
Save