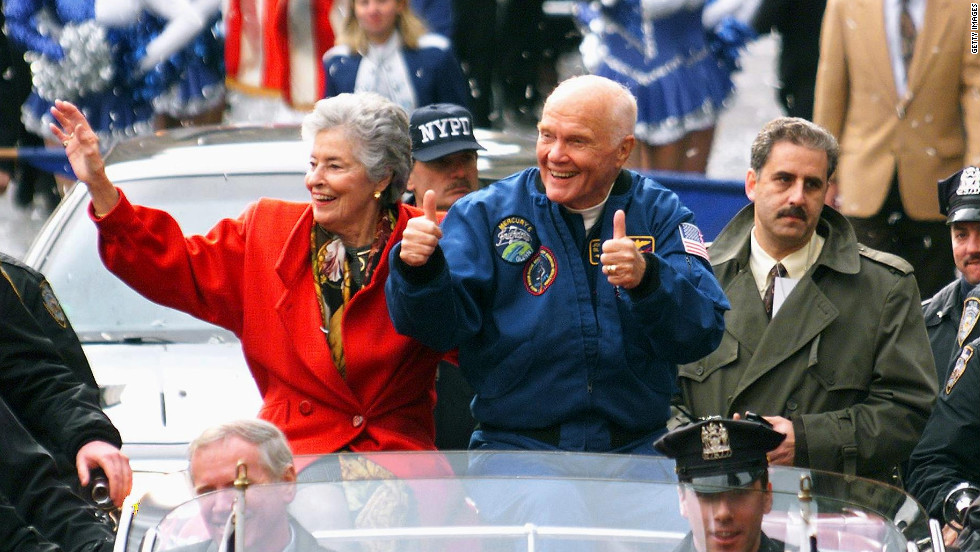 When you hear about famous people who stutter, you often hear stories about the struggles they faced as a young child, before they outgrew or overcame their stuttering. Annie Glenn had a different story to tell. The wife of John Glenn, the first U.S. astronaut to orbit the earth, Annie Glenn lived a very public life with a severe stutter for more than 50 years. She passed away on May 19, 2020.
According to a 2012 profile on CNN [1], Annie Glenn's stuttering was so severe that it was categorized as an "85%" disability -- 85% of the time, she could not manage to make words come out. Over the years, Glenn tried various forms of treatments to overcome her stutter, but none of them worked. She lived with her stuttering until 1978, at age 53, when she found a doctor at the Communications Research Institute at Hollins College in Roanoke, Va., and underwent three weeks of intensive, specialized therapy.
In 1980, Glenn sat down with People [2] to describe her half century-long struggle with stuttering and how she finally overcame it. Of the hardships she faced, Glenn recalled: "I can remember some very painful experiences—especially the ridicule. People would tell me to hurry up or start shouting at me because they thought I was deaf and dumb."
Glenn shared how stuttering affected her everyday life. "Going into a department store used to be terrifying," she wrote. "I would never ask where certain items were because I was afraid of being laughed at. Instead, I would hunt and hunt. When I wanted to travel, I couldn't tell the man at the ticket counter where I wanted to go. I had to write out my destination and show it to him. John was always very thoughtful and patient. When he and I ate in restaurants, he would order for me, or I'd point to what I wanted. But he never made the slightest attempt to keep me in the background."
As an adult who stuttered, Glenn worried about the simplest of tasks, like picking up the phone when someone called: "Can you imagine living in the modern world and being afraid to use the telephone?" Glenn wrote.  "'Hello' used to be so hard for me to say. I worried that my children would be injured and need a doctor. Could I somehow find the words to get the information across on the phone?"
As the wife of an astronaut who would become the first U.S. astronaut to orbit the earth, Glenn said she wasn't initially prepared for the limelight: "I don't think any of us was fully prepared for the press attention and the commotion that followed his orbital flight," she wrote. "I can remember when the seven Mercury astronauts' wives were asked to be on a Bob Hope special, and each of us was given something to say. I told them at the first rehearsal that I just wouldn't be able to speak. They handled it very well, but after it was all over I had a disappointed feeling because I hadn't tried."
Glenn said she discovered Rob Webster, director of the Hollins Communications Research Institute, in an interview on television. He was discussing a new treatment for stuttering, and John asked her if she'd like to try it. She said yes, becoming one of the institute's first 100 students. 
During the three-week course, Glenn and her fellow students worked 11 hours a day. At the institute they began by working on their breathing, and pronouncing one-syllable words like "my" and "on" very slowly, two seconds per syllable, observing how it was formed in their throat, mouth and jaw. The second week they sped up to one second per syllable, and by the third they were speaking at a normal rate and even making telephone calls. The last three days were spent at shopping centers, practicing what they had learned in the real world.
After the success of the therapy, Glenn said she began wondering last year how she could help her fellow stutterers. Her first act was a speech to 300 women in Canton, Ohio, where she shared her life story and spoke of the humiliations and fears she had encountered because of her stuttering. At the end of the speech, she said, "my family has shared many first experiences, but I share with all of you here today another first that means more than I can begin to tell you. This is the first full-length speech I've ever given." From there, Glenn went on to give talks for her husband John in his capacity as senator for Ohio.
Of her stuttering, Glenn said she still had a long way to go, but that now when people are rude or impatient when she is out in public, she can explain that she is a stutterer and to be patient. Glenn noted that she also continued to work with a speech therapist after her initial course of therapy, and has been back to Hollins twice because they had new research that could help her further. Glenn has been careful to emphasize that while this particular speech therapy works for her, it may not work for everyone.
Annie Glenn is proof that it is never too late to overcome your stuttering, and that you should never give up, even if you don't succeed at first. Her perseverance and determination to overcome her stutter after decades of struggling with it are an inspiration to members of the stuttering community of all ages.
On overcoming her stuttering, Glenn wrote: "The most important part of what's happened is that now I can get my ideas across. I used to be just a good listener; now I'm a chatterbox. My greatest pride is when I am able to encourage other stutterers to come out of hiding and tackle their problem. I have always had love and been happy. Now I want to help others feel that way too." 
Posted June 17, 2015