Retired NY Islander Gord Lane is a Perennial All-Star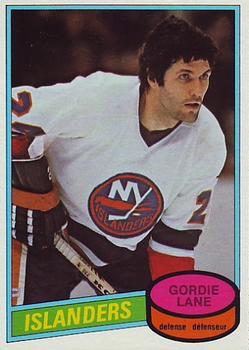 After 43 years of playing at the Nassau Coliseum in Uniondale, Long Island, the New York Islanders are currently playing their final season at the famed arena in which they won four consecutive Stanley Cups from 1980-1983. Throughout this current season, Islanders greats of the past have been honored at home games in special nights dedicated to the player.
With so many stars in their 43 year history, it is not possible for the Islanders to honor every Islanders standout. One of the many Islanders greats from the Stanley Cup championship era who is not being so honored with a special night at a home game is defenseman Gord Lane, who was an integral part of their four championships, the stuttering community would like to honor Gord Lane as an all-star whose openness about his stuttering during his days with the Islanders put a human face on the speech problem and gave hope to others who were struggling with stuttering.
Gord Lane's life and career is one of perseverance and triumph over the odds. At age 19 after playing for the New Westminster Bruins of the WCJHL, he was drafted by the Pittsburgh Penguins in the ninth round of the 1973 NHL Amateur Draft in an era when ninth round picks had little if any chance of making the National Hockey League. Never giving up, he played three seasons in the International Hockey League. It was a most difficult task for an IHL player to make the NHL, but Lane was finally offered a tryout with the Washington Capitals and was signed as a free agent. He quickly earned a reputation as the Capital's "enforcer." In his fifth season with the Capitals, the native of Brandon, Manitoba, was traded to the Islanders on December 7, 1979, and the rest is history.
On a team with many high scorers and other great players, Lane anchored the defense for the Islanders as a defensive defenseman that was a needed contrast to the high-scoring Islanders defensemen. Lane played six seasons with the Islanders from 1979-1985, and was noted for his physical play and stay-at-home defensive style. An integral part of the Islanders' four consecutive Stanley Cup championship teams, his keen defensive style was regularly noted in the media.
In 2008, announcement on the Islanders website announcing a special weekend of events commemorating the 17 Islanders players who played on all four  Stanley Cup championship teams read, "Every championship team needs that one player to do the little things that may go unnoticed, but certainly not unappreciated. Gord Lane was the defender the Islanders needed to help bring greatness to Long Island."
Jane Fraser, president of the Stuttering Foundation said, "I have never been a hockey fan, but I know that having Gord Lane on our list of Famous People Who Stutter [1] has resulted in many e-mails and phone calls of people who were delighted to know that they had something in common with this Islanders great. His personal story is one of hard work and overcoming the odds – both on and off the ice. He persevered in everything he did and never let stuttering hold him back."
In several newspaper articles during his years with the Islanders, he addressed his stuttering as well as the speech therapy he was receiving at the time.
In the 1980's, he was one of the few pro athletes who went on record about their stuttering. Retiring after 11 NHL seasons which saw him register 19 goals and 94 assists, Lane earned an undergraduate degree in construction management and founded Next Shift Enterprises, a multi-venture business run by, and employing, retired and current hockey players with the purpose of helping them make the transition from hockey into the business world. In addition, he started a highly successful Maryland-based construction company.
With the 43 year history of the New York Islanders playing in the Nassau Veterans Coliseum, so much of the rich history of the Islanders is being recounted in this final season in Uniondale. Islanders icons such as Mike Bossy, Denis Potvin, Billy Smith, Bobby Nystrom and Brian Trottier have had special nights in their honor during this final season at the famed coliseum. It is understandable that all of the countless Islanders stars over five decades cannot be honored at a home game this season. To the stuttering community, Gord Lane is remembered with a sense of pride as our perennial all-star and MVP. When the Islanders bring their amazing hockey legacy to Brooklyn next season, the individual legacy of trailblazer Gord Lane will bring a rich diversity to the franchise as it begins play in its new home.
Posted April 2, 2015