"Everytime You Go Away" from the 1980s Still a Hit Today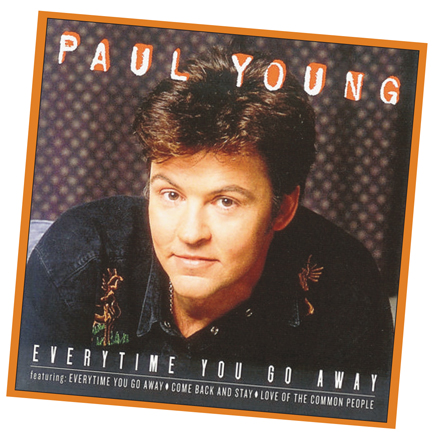 As is evident from the Stuttering Foundation's list of
Famous People Who Stutter
[1]
, there is no shortage of U.S.-based singers who have achieved success. Across the pond in the UK, there also seem to be notable entertainers who have used singing to break free of their stuttering bonds. Take British rock performer Paul Young. He was highly successful in the '80s.
American listeners know British star Paul Young mostly for his phenomenal 1985 international number one hit "Everytime You Go Away," which topped the charts in many countries, including The Billboard Hot 100 in the U.S. in July 1985. Prior to success with that song, Young charted many singles on the UK pop charts, both as the lead singer of two bands in addition to a few hits as a solo artist.
Young, who took up piano and bass guitar in his youth, started working at the Vauxhall automobile manufacturing plant while trying his luck playing bass for local bar bands. In the late 1970s he joined Streetband as lead singer, and they had a Top 20 hit in the UK called "Toast." Later, he was lead singer for Q-Tips, who had moderate success in the UK. Q-Tips opened for bands such as The Who, The J. Geils Band, The Knack, and Thin Lizzy. The band disbanded when Young signed a solo recording contract with Sony/CBS Records in 1982 at age 26.
Young fared well with his first two singles, "Iron Out the Rough Spots" and "Love of the Common People," garnering him notice on the UK pop charts as well as radio airplay. His third single, a cover version of Marvin Gaye's "Wherever I Lay My Hat (That's My Home)," topped the charts in the UK for three weeks in summer 1983 and also did well in other European countries. The follow-up single "Come Back and Stay" reached number four, while a re-release of "Love of the Common People" reached the number two spot on the charts.
In November 1984, American audiences heard Paul Young's distinctive vocals  on Band-Aid's "Do They Know It's Christmas"  as well as saw him in the video for that phenomenally successful charity song which topped the charts all over the world.      
However, it was not until summer 1985 that the U.S. would be formally introduced to Paul Young with "Everytime You Go Away," a song written by Daryl Hall that appeared on Hall & Oates 1981 album Voices , but was never released as a single.  While Young's successes continued in the UK and Europe, after "Everytime You Go Away," he reached the Top Twenty only twice in the U.S., in addition to scoring a #8 hit in 1990 with a rendition of 
the Chi-lites' classic 
"Oh Girl."
While Young is known for his professional successes, few know that he stuttered significantly in his youth and credits singing as the tool that led him to fluency. Young went public about his stuttering and how it shaped his life in a July 18, 2008 article in the Daily Mail titled "Paul Young: I've Lost Everything – But I'm Not Bitter." The article described Young during his childhood as being "a shy child with a terrible stutter" who showed profound musical talent at an early age. The article quotes the singer as saying, "A large part of my becoming a performer was a make-or-break way of getting over that stutter. I sometimes wonder if, subliminally, that was part of the reason I got into the business, and the more I became a performer and grew in confidence, the less pronounced the stutter became." 
The worldwide chart successes of Paul Young are impressive to say the least. The stuttering community knows that his biggest "hit" is his openness about his past stuttering because these public statements serve to inspire young people struggling with the speech problem. It is safe to say that when some people who stutter hear a Paul Young song come on the radio, they turn up the volume and enjoy it while knowing that he has also achieved this "number one hit" every time he has addressed his stuttering in public. 
From the Summer 2014 Newsletter