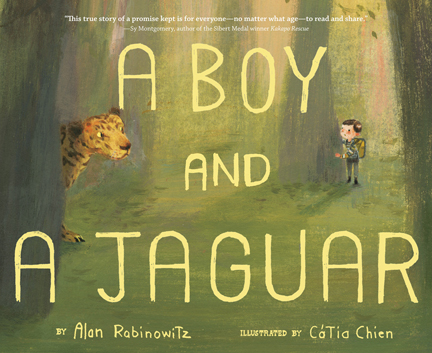 A Boy and a Jaguar by Dr. Alan Rabinowitz [1]
Alan loves animals, but the great cat house at the Bronx Zoo makes him sad. Why are they all alone in empty cages? Are they being punished? More than anything, he wants to be their champion—their voice—but he stutters uncontrollably.
Except when he talks to animals…Then he is fluent.
A simple memoir recounts a lifelong bond between a child who felt "broken" and the animals, especially jaguars, that have informed his life's work. 
The narrator explains his teachers must think he is "broken" when he is switched from his regular class due to his severe stuttering. But he can talk with his own small menagerie at home—in fact, he says, he can only speak fluently when he is singing or when he talks to animals. He promises the sad, caged jaguar at the Bronx Zoo that one day he will be a voice for the animals. In college, he finds ways to manage his stuttering; as an adult, he studies black bears and, later, jaguars. In a triumphant moment, he helps persuade Belize to set aside land as a jaguar preserve.
Follow the life of the man Time Magazine calls, "the Indiana Jones of wildlife conservation" as he searches for his voice and fulfills a promise to speak for animals, and people, who cannot speak for themselves. This real-life story with tender illustrations by Catia Chien explores truths not defined by the spoken word.
Available at Amazon.com [2]