Stuttering Foundation Continuing Education Catalog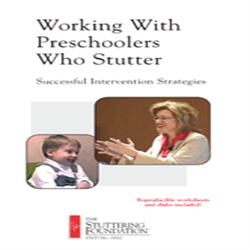 Improve your ability to treat stuttering in preschoolers. This one hour and 45 minute video with corresponding handout offers comprehensive and practical strategies for working with young children:

- a multidimensional approach to the assessment and treatment of preschoolers;
- guidelines based on research on when to provide treatment;
- practical strategies to use in therapy;
- and a structured approach to involve parents in the process.

Demonstrations help you see and successfully model easy relaxed speech. The video includes excerpts with parents sharing their personal stories about being involved in treatment.

Featuring Kristin Chmela, M.A., speech-language pathologist and Board Recognized Specialist in Fluency Disorders.
This course is offered for 0.3 ASHA CEUs (Intermediate level, Professional area).
Kristin Chmela received an honorarium for her work on this presentation. Kristin Chmela has no non-financial relationship with the nonprofit Stuttering Foundation to disclose.