Stuttering Foundation Continuing Education Catalog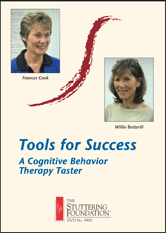 Highlights from a workshop featuring Frances Cook, MBE, MSC, MRCSLT (Hons) Cert. CT (Oxford) and Willie Botteril, MSc, (Psych. Couns.), MRCSLT.
This 4 hour video taster into cognitive behavior therapy explores the interaction of thoughts, feelings, physical reactions and behaviors from the perspectives of children, parents, and therapists. Ways to use the cognitive model are discussed and demonstrated.
This course is offered for 0.4 ASHA CEUs (Advanced Level, Professional Area)