Stuttering Foundation Continuing Education Catalog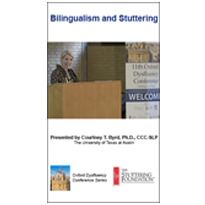 Bilingualism and Stuttering, Blurred Lines: Typical Versus Clinical Speech Disfluency--Video plus CEU Assessment
Speech-language clinicians commonly report difficulty determining whether disfluencies are indicative of stuttering or are unique to cluttering, autism, language impairment or second language learning. In the clinical decision making process, knowing the distinctive features unique to specific speech and/or language disorders can reduce the complexity of assessments and increase reliability and validity. But, what happens when those features appear to overlap?

In this 1 hour presentation, Courtney Byrd, Ph.D., CCC-SLP, of the University of Texas at Austin, sheds light on differential diagnosis of stuttering particularly when clinicians may be misled by similarities in the speech behaviors produced. Participants will learn key differentiating characteristics and areas of overlap, along with other critical assessment considerations that will enhance their competence and confidence in their evaluation of speakers for whom there may be an increased risk for misidentification of stuttering, with an emphasis on assessment of speakers of more than one language.

This course is offered for 0.1 ASHA CEUs (Intermediate level, Professional area).

Courtney Byrd received an honorarium for her work on this presentation. Courtney Byrd also serves in a paid position as the Continuing Education Consultant of the nonprofit Stuttering Foundation. Courtney Byrd has no non-financial relationship with the nonprofit Stuttering Foundation to disclose.