This is the second in a series of articles featuring Stuttering Foundation board members. This article and photo are used with permission from The Memphis Daily News.
By Mark Sullivan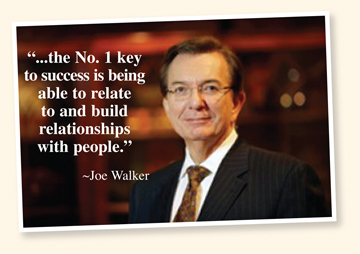 Memphis lawyer Joe Walker has always loved accounting, tax, trust and estate planning. He sees his chosen career as a science and an art form. While that fact may be unusual to some, Walker realized early in life that helping others by drafting wills and having a hands-on approach was his calling.
"You must have the technical background to be successful, but the No. 1 key to success is being able to relate to and build relationships with people," Walker said. "The trust and estate business is all about trust, open communications and listening. I work very hard making sure that is my reputation."
"In my world, I am taking care of someone's most important possessions," Walker added.
"We in many ways are in the business of caring for our clients' children, family members, other loved ones and their hopes and dreams of life. To do that effectively, we bring expertise and experience to the table and blend that with information we have gained from clients to facilitate their goals. These skill sets are far different from those used in litigation."
Walker, a partner with Adams and Reese LLP, was recently named among "Lawyers of the Year" in Trusts and Estates Law by Best Lawyers magazine, the oldest and most respected peer-review publication in the legal profession.
Only one lawyer in each specialty area in each community is honored, and the award is based on more than 3.1 million detailed evaluations of lawyers by others in the field.
"To have my peers recognize me for this honor is extremely humbling," Walker said.
"Memphis is blessed with an outstanding legal profession – men and women who exhibit the highest degree of professionalism and integrity and are dedicated to helping others."
Walker calls himself a "Mississippi Transplant" having relocated to Memphis from McComb, Miss., a small town about five hours from the Bluff City.
Walker joined Adams and Reese in 2006 when the firm expanded its regional footprint into the Mid-South. He became the partner in charge of the Memphis office and held that position from 2006 to 2009. Walker also serves on the intellectual property and technology and tax teams.
He also practices law in the area of information technology/ software licensing and contracting and is one of the few lawyers in the firm, and the only partner in Memphis, with extensive experience in sophisticated estate and tax planning, including matters relating to obtaining and maintaining tax-exempt status for 501(c)3 charitable organizations, tax matters, fiduciary compliance, asset protection, and trust and probate estate matters.
"One key to my success has been the mentors in my life," Walker said. "People like John Doggett and Hubert McBride* put light on the path ahead of me and showed me the ropes.
Mentoring is very important to me in giving back to others. We need more men and women of all walks of life to lend a helping hand to others through being a mentor, coach or role model."
Walker and his wife of 42 years, Barbara, are actively involved in the Stuttering Foundation of America. The organization, founded by Malcolm Fraser of Memphis more than six decades ago, provides adults and teenagers who stutter and teachers, clinicians, doctors and other leaders with the most up-to-date information in prevention and treatment of stuttering.
"I have been an officer and director of the Stuttering Foundation for more than 20 years," said Walker. "It is one way to give back to the community. Everywhere I travel, I am an advocate of Memphis and Shelby County. It is a fascinating place to live and raise a family. Since we live here, it is our responsibility to pass on the good news about our home."
*Hubert McBride was an original Stuttering Foundation Board Member in 1947.
-From the Fall 2011 Newsletter