Frances Cook has served on the Stuttering Foundation Board of Directors since 2008.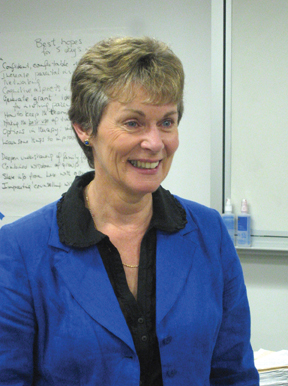 Frances recently retired as the Head of Specialty at the Michael Palin Centre (MPC) for Stammering Children in London, UK. The MPC opened in 1993 and it is now recognised as a centre of expertise in the practical treatment of stuttering, for its professional training programmes and its expanding programme of research into treatment efficacy.
Frances has specialised in the field of stuttering since 1974. In addition to being a Speech and Language Therapist, she is trained in Personal Construct Psychology and in Cognitive Behaviour Therapy. She was awarded the Clinician of Distinction Award by the International Fluency Association in 2004 and, in 2005 was appointed an honorary research fellow in the Department of Psychology, University College London and awarded the honours of the Royal College of Speech and Language Therapists.
Frances has published many articles, chapters and texts in relation to clinical practice as well as a range of research papers. She has also been involved with two DVDs produced by the Stuttering Foundation of America: Stuttering: Basic Clinical Skills and more recently, Tools for Success: A Cognitive Behavior Therapy Taster.
"My interest in stuttering was awakened by my excellent lecturers, Maud Wohl and Roberta Lees in Glasgow, it was strengthened by training with Gavin Andrews and Barry Guitar in Sydney, and finally became deep rooted in London when working with my remarkable mentor Lena Rustin and my brilliant colleague and friend, Willie Botterill."
"But it has always been the wonderful children, teenagers and families who have taught me the most. It is clear that those who stammer do have some commonalities, but I believe that each person has an individual experience of the challenges they face and therapy must be tailored to their needs. Despite the advances in research and evidence based practice, I will continue to worry about the damage that can be done to young lives by inadequate services, by lack of training and expert supervision. If my child was stuttering, I would want to be helped by an expert."
-From the Summer 2012 Newsletter