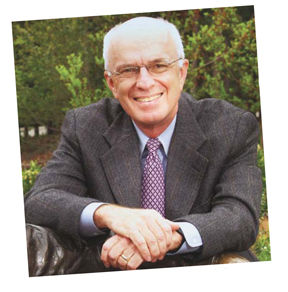 A fireman or astronaut, maybe.  But no kid aspires to be a fund-raiser.  Nor did Don Lineback.  "I sort of fell into it," he says, looking back at his 35 years in college fund-raising.  "What kept me there was the amazing people I met and worked with." 
Don's initial goal was to be a professor.  Armed with the PhD, he began teaching German at Hollins College, where he also worked part-time in development.  A few years later he went full-time into fund-raising at Rhodes College in Memphis and hasn't looked back.
Among the amazing people he met early on was Malcolm Fraser.  Don had just come to Rhodes (then Southwestern at Memphis) when he met Malcolm, a man of admirable traits:  a self-effacing but mischievous sense of humor, a keen mind for business, and a generous spirit.
Once Malcolm suggested – with a grin – a unique football phrase to encourage bequests for Rhodes:  "You kick off and we receive!"  Don was tempted to use it.  With Malcolm's help and that of many others, Don led a $50-million Rhodes campaign to its final $100 million, helped grow its endowment tenfold, and increased the number of estate plans from 38 to 336.
Malcolm told Don about the time his speech therapist forced him to speak in front of an audience.  He froze.  He vowed at that early age to find a better way to help stutterers, and in 1947 he created a foundation to do just that. He invited Don to serve on the Stuttering Foundation board in the 80s, and Don has been on the board ever since.  Why so long?  "More than anything else, it's the
letters we receive from children
," Don says.
In 1993, along with his wife Judy and daughters Anna (now a speech therapist), Sally, and Elizabeth, Don moved to South Carolina and Furman University, which had just lost $1.5 million per year after severing ties with the SC Baptist Convention. Don asked Furman alumni to 'bridge the gap,' and they did.  During Don's tenure there, the percentage of alumni giving placed Furman among the top 10 larger (i.e., more than 20,000 alumni) institutions in the country; a $150-million campaign ended at $200 million; some thirty campus buildings were added or renovated (2/3 with gift money, others with bonds); and the endowment increased tenfold.
Now retired, Don has established a 'cottage industry' in Haiti, in which artisans support their families by making rugs.  It provides jobs and income to some 16 families.  Their sales have just passed $5,000 – a good start in a country with 40% unemployment, where most people live on $2 a day.
Don has taken special satisfaction in encouraging planned gifts for Rhodes, Furman, and the Stuttering Foundation.  "Bequests move an institution forward by quantum leaps, at a relatively low cost to the donor," Don says, "and they perpetuate our values.  They enable us, like Malcolm Fraser, to help others, now and for all time."
From the 2013 Winter Newsletter