Famous People Who Stutter Brochure
Famous People Who Stutter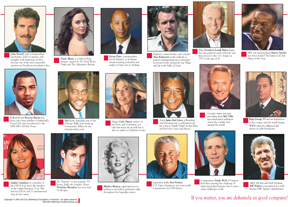 Kenyon Martin, Emily Blunt, Nicholas Brendon, John Stossel, Byron Pitts, James Earl Jones, Carly Simon, Mel Tillis, Alan Rabinowitz, Robert Merrill, Winston Churchill, Marilyn Monroe, Ken Venturi, Bob Love, John Updike, King George VI, Sophie Gustafson, Frank Wolf, Lewis Carroll, Bill Walton … all famous and successful. And all stuttered. They share something else: they didn't let their stuttering stop them. And if you're one of 65 million people worldwide who stutter, don't let it stop you.
National Stuttering Awareness Week
In May 1988, the U.S. Congress passed a Joint Resolution designating the second week of May as National Stuttering Awareness Week.
National Stuttering Awareness Week is a special nationwide commitment...
to educate people about this complex disorder

to work toward the prevention of stuttering in children

to let people know that help is available

to promote research to find the causes of stuttering
The Stuttering Foundation has been working towards these goals–since 1947! Visit us at www.stutteringhelp.org or call toll-free 1-800-992-9392.
Basketball star Kenyon Martin has been a two-time member of basketball's Team USA and was selected to the 2004 NBA All-Star Team.
John Stossel still struggles with stuttering, yet has become one of the most successful reporters in broadcast journalism today.
Byron Pitts — An Emmy award-winning journalist for CBS News.
NFL star Darren Sproles is a football running back and return specialist for the San Diego Chargers. He was twice named The Kansas City Star Player of the Year.
NBA All Star and Hall of Famer Bill Walton is recognized as a well-known NBC Sports commentator.
Singer Carly Simon has an Oscar, a Grammy, as well as many hit records.
Winston Churchill captured the attention of millions during WWII with his inspiring speeches.
As "Xander" in the popular TV series, Buffy the Vampire Slayer, Nicholas Brendon has won fans of all ages.
Bob Love, legendary star of the Chicago Bulls, now heads up Community Affairs for the championship team.
Actor James Earl Jones, a Broadway and television star, is well-known for his voice as "Darth Vader" in Star Wars and his book, Voices and Silences.
Country music star and recording artist Mel Tillis has entertained audiences across the country and around the world.
Explorer, conservationist, and zoologist Alan Rabinowitz works tirelessly to protect endangered species as described in his new book, Beyond the Last Village.
Robert Merrill, world-famous baritone, was the first American to sing 500 performances with the Metropolitan Opera.
Congressman Frank Wolf of Virginia feels that meeting the challenge of stuttering helped prepare him to meet other challenges in life.
Legendary golfer Ken Venturi, U.S. Open champion, is a successful commentator for CBS Sports.
Marilyn Monroe captivated movie audiences and fellow performers alike throughout her legendary career.
Author John Updike continues his successful career with best-sellers Rabbit at Rest and Brazil.