Continuing Education
CEU Opportunities
Conferences and Workshops
The Stuttering Foundation sponsors the following conferences and workshops annually or bi-annually. For an application to any of these workshops, call us toll-free at 800-992-9392.
Click here for information on upcoming workshops!
Five-Day Workshops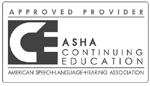 Two five-day workshops will also be offered in two different locations and by two different teams of instructors. The five-day workshops focus on intensive instruction and guided practice for speech-language pathologists interested in improving their skills with children who stutter. Click here for more information.
DVD Series
The Child Who Stutters: Practical Ideas for the School Clinician - set of 6 DVDs with CEU materials. This series of 6 DVDs (Catalog #9515) includes CEU materials. The information and practical ideas encompassed in this series ensure that they will be a lasting source of help to school clinicians, parents, teachers and health care professionals. By completing the self-study materials and accompanying test, you can earn 1.0 ASHA CEUs. The DVDs may be ordered by calling 800-992-9392.
Accompanying handouts make them perfect for in-service presentations.